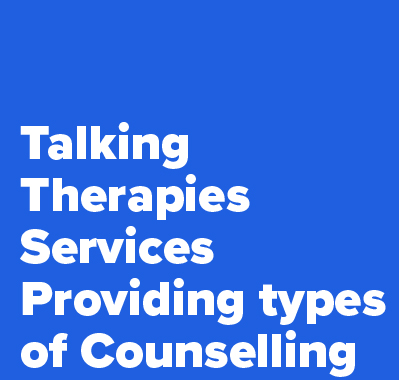 'We often find it helpful to talk problems through with a friend or family member, but sometimes friends and family cannot help us and we need to talk to a professional therapist.
Talking therapies involve talking to someone who is trained to help you deal with your negative feelings. They can help anyone who is experiencing distress. You do not have to be told by a doctor that you have a mental health problem to be offered or benefit from a talking therapy.
Talking therapies give people the chance to explore their thoughts and feelings and the effect they have on their behaviour and mood. Describing what's going on in your head and how that makes you feel can help you notice any patterns which it may be helpful to change.
It can help you work out where your negative feelings and ideas come from and why they are there.
Understanding all this can help people make positive changes by thinking or acting differently. Talking therapies can help people to take greater control of their lives and improve their confidence.'
For more information about what Talking Therapies are please view link via the Mental Health Foundation here: Talking Therapies
Combat Stress

Helpline:

If you're currently serving, or have served in the UK Armed Forces, you can call our 24-Hour Helpline to talk about your mental health.

Tel: 0800 138 1619

Text: 07537 404 719

Email: helpline@combatstress.org.uk

Website: www.combatstress.org.uk

General enquiries:

Helpline Tel: 0800 138 1619

Head Office Tel: 01372 587 000

Tyrwhitt House (Surrey) Tel: 01372 587 002

Audley Court (Shropshire) Tel: 01952 822 722

Hollybush House (Ayrshire) Tel: 01292 561 300

General enquiries email:

Email: contactus@combatstress.org.uk


Off The Record Counselling Service
The Compassionate Friends