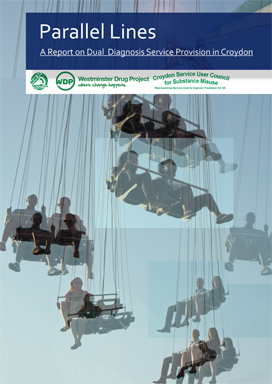 This report was produced through partnership working between substance misuse services in Croydon (the Lantern Hall Service User Involvement Co- ordinator, Service User Representatives, and the WDP Dual Diagnosis Practitioner) and Hear Us (Croydon's mental health service user group).
On behalf of all the project partners, we would like to express our sincere gratitude to everyone who has contributed to this report. Many thanks to the Hear Us Linkworkers and Service User Representatives who were instrumental in developing the research model and who have supported clients to complete surveys and focus groups, in order to allow them to be open in expressing their views about service provision.
We would also like to express our gratitude to mental health and substance use services who opened their doors and took part in the project, supporting us to hear the voices of their clients so that recommendations for improvement could be made.
Our specific thanks to: Lantern Hall, WDP, PLUG/Plugettes and Tamworth Road Resource Centre. This report provides an insight into the experience of dual diagnosis clients when accessing mental health and substance use services. Without the openness and honesty of the clients surveyed, this report would not have been possible. We hope we have done justice to their words and are humbled by their innovativeness, honesty and ability to articulate the breadth of their experience.
Report By:
Liz Barnes (WDP Croydon)
Karen Handy (Croydon DAAT)
Allie Cairnie (Hear Us)
and Tim Oldham (Hear Us)