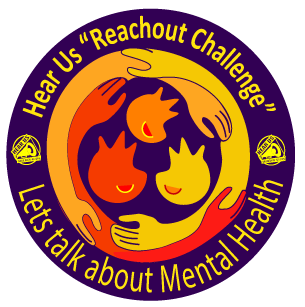 The Hear Us Reachout
The Hear Us Reachout Challenge projects aims and objectives are:
To decrease stigma about mental illness

To raise awareness of what it is like to live with mental illness

To encourage the staff in the organisations we work with to have a more 'open policy' towards mental health that enables them to be able to talk about their own mental wellbeing without shame, embarrassment or stigma.
If you are interested in finding out more then please do not hesitate to contact Hear Us to organise an informal meeting.
The Reachout Challenge continues to go from strength to strength with more volunteers starting and discussions around providing more awareness sessions to local police and organisations it is an exciting era we approach.
After funding ceased in 2014 it was agreed to continue to run the project on a voluntary basis as winding it down would be a great loss to both those who are involved as volunteers and the benefits organisations gain from its delivery.
We have provided the Metropolitan Police specialist Crisis and Hostage Negotiators with four sessions over the last year they kindly give us a donation to run the session and we have agreed a further five sessions with the continuation of the 'much needed' donations.
We have also delivered a scaled down version of the session to uniformed officers across the Metropolitan Police of various ranks and roles, albeit we have not been gifted a donation they are trying to find ways of securing some funds so we can go back and continue to be part of the mental health training officers receive.
It is also their plan to include this in all new officers training when joining the force, and the person in charge of such a decision has come along to one of the sessions and observed first hand and read the feedback officers give in what they gain from our attendance and appreciates it would be money worth spent. If successful it will be a big commitment from the team of volunteers but one we shall embrace and deliver with pride and professionalism. We know by providing these sessions it better equips front line services when coming into contact with us when we are in crisis and this is one of our main drivers to continue and manage the journey over to far North London.
We recently purchased some more stress balls with Reachout money as these really go down well in the session and have our website address on them so promotes who we are and what we do within our own borough.
The steering group met to organise smaller working groups to take on specific tasks such as:
Revising and updating the material we use

Copy writing our material

Contacting local organisations such as the Job Centre, who in the past have asked us to run a session

Thinking about what agencies we can approach for future events and what this should look like

Finances

Promoting the Reachout Challenge.
Not everyone is confident about public speaking but that is okay as there are many roles you could cover that does not require you to speak openly about your lived experience of mental health… If any of this sounds interesting and you want to know more then click here  to volunteer or give me a call to have an informal chat about how you would like to get involved my contact details are at the bottom of this page…
I would like to take this opportunity to thank all the volunteers past and present for their dedication, determination and time in making this project so successful and long may it continue…
Imagine Mental Health Services