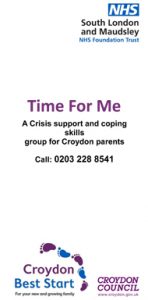 Time for Me
What is Time for Me?
Time for me is a group that helps people
cope with distressing thoughts and feelings.
Who can come to Time for Me?
Any parent of a child aged 5 or under is
welcome to join a Time for Me group. You
need to live in Croydon, and be registered with a Croydon GP.
Who might benefit?
Parents with any emotional problems. This
includes low mood, anxiety, stress,
relationship difficulties, or difficulties
managing strong emotions.
Who runs the group?
Time for Me groups are run by experienced
NHS mental health professionals.
For more information please read the leaflet linked here: Time for Me
Bethlem Time for Me Project
Bethlem The SUN Project
The SUN Team
Croydon Personality Disorder Service
Alexandra House
Bethlem Royal Hospital
Monks Orchard Road
Beckenham
Kent
BR3 3BX

Tel: 020 3228 8541
Tel: 020 3228 8542

Website: www.slam.nhs.uk