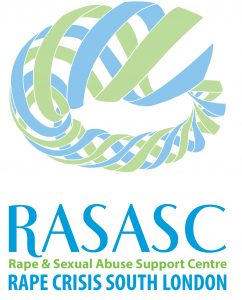 Rape Crisis South London
Rape Crisis South London formerly known as the Rape and Sexual Abuse Support Centre (RASASC) was originally established in 1985.
They offer a number of services including:
Rape Crisis Helpline

Sexual Violence Outreach

Counselling

Independent Sexual Violence Advocacy (ISVA)
Brief descriptions below about each service…
---
National Rape Crisis Helpline
Rape Crisis South London run the Rape Crisis National Helpline for female survivors of sexual violence. The Helpline is accessible 365 days a year to women aged 13+ who have survived any form of sexual violence, no matter how long ago. We offer specialised, confidential support, information and referral details completely free of charge. The helpline is also available to provide an immediate source of support to friends and family of survivors, as well as other professionals, to help them understand how best to support female survivors of sexual violence.
As a first step many women find it easier to talk anonymously and in confidence. The Helpline aims to provide a supportive, non-judgmental, safe space for survivors to begin talking about their experiences. They explore the options available to the callers, believing in their power to choose for themselves what they want to do next.
The National Rape Crisis Helpline can be reached on 0808 802 9999 or on minicom 0208 239 1124. The Helpline is open every day of the year (including bank holidays) between 12 and 2.30 and 7 and 9.30pm. The service is also open on weekdays (excluding bank holidays) between 3pm and 5.30pm.
---
Specialist Sexual Violence Outreach Service
RASASC provides an independent and confidential Outreach Service across South London, to women and girls aged 13+ who have survived any form of sexual violence at any time in their lives. This is provided by a female Outreach Worker, who has been trained to support female survivors of sexual violence, and who specialises and is experienced in supporting survivors who have also experienced societal marginalisation for any reason. This can include, but isn't limited to, those with experiences of the sex industry, the prison system, and homelessness.
---
Counselling
Rape Crisis South London counselling service can be contacted on 0208 683 3311 between 10 and 6pm, Monday to Friday. To book an appointment or for any other counselling enquires please ask to speak with the counselling coordinator.
Counselling Service
Rape Crisis South London provide face-to-face counselling for women aged 13 and above, who have been raped or sexually abused at any time in their lives and who live and/or work in any of the South London boroughs. The service is provided regardless of ethnicity, religion, culture or socio-economic background. The aim is to help reduce the debilitating impact of sexual violence and help women achieve the life they want to.
---
Independent Sexual Violence Advocate (ISVA) Service
Have you reported what happened to the police but you're not sure what happens next?
Are you not sure if you should report to the police?
Are you not sure if what happened to you is a crime?
Are you worried about giving evidence in court?
This service offer ISVA support to women and girls aged 13 and upwards who have survived rape and childhood sexual abuse in South London and who are thinking about reporting to the police or who are currently going through the criminal justice system.
You can report a sexual offence at any time after the event – there is no time limit. This service offers support during this difficult time, accepting and understanding how you may be feeling. They give clear information about the police and court process. They can work together to reduce anxiety through empathy and understanding.
If you have experienced sexual violence, you may be experiencing a range of emotions. However you are feeling right now, know that you do not have to do this alone. This service is here to help and they will support you by explaining every step of the journey ahead, so you can make the best decisions for yourself.
View Rape Crisis South London website for more details about their services.
Rape Crisis South London
Postal Address:
Rape Crisis South London
(The Rape and Sexual Abuse Support Centre)
PO BOX 383
Croydon
CR9 2AW

National Rape Crisis Helpline
Tel: 0808 802 9999
12:00 – 14:30 daily
19:00 – 21:30 daily
15.00 – 17.30 Monday to Friday
Or Minicom: 0208 239 1124

All other services
Tel: 0208 683 3311
between 10am and 6pm Mon-Fri
Office Fax: 0208 683 3366

Email: info@rasasc.org.uk
Website: www.rasasc.org.uk


---