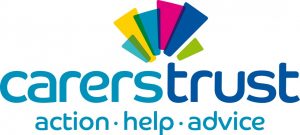 Carers Trust
Carers Trust work to improve support, services and recognition for anyone living with the challenges of caring, unpaid, for a family member or friend who is ill, frail, disabled or has mental health or addiction problems.
They do this with a UK wide network of quality assured independent partners and through the provision of grants to help carers get the extra help they need to live their own lives.
With locally based Network Partners they are able to support carers in their homes through the provision of replacement care, and in the community with information, advice, emotional support, hands on practical help and access to much needed breaks.
They offer specialist services for carers of people of all ages and conditions and a range of individually tailored support and group activities.
Find out more about their work locally.
Carers Trust vision
Our vision is that unpaid carers count and can access the help they need to live their lives.
Read more about their Make Carers Count Programme in their news story (8 December 2016)
Carers Trust work across the UK
Carers Trust
Head office
Carers Trust
32-36 Loman Street
London
SE1 0EH

Tel: 0300 772 9600

National offices

Scotland office
Skypark 3
Suite l/2
14/18 Elliott Place
Glasgow
G3 8EP

Tel: 0300 123 2008

Wales office
Third Floor
33-35 Cathedral Road
Cardiff
CF11 9HB

Tel: 0292 009 0087

Fax: 0292 022 8859

Email: info@carers.org

Website: carers.org