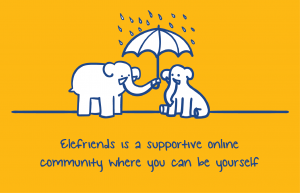 Elefriends 
Elefriends is a supportive online community where you can be yourself.
We all know what it's like to struggle sometimes, and this is a safe place to listen, share and be heard. Whether you're feeling good right now, or really low, it's a safe place to share experiences and listen to others.
Shared experiences and perspectives are valuable and powerful. In this way Elefriends don't just get help, they give help too. In the good times and the bad.
Please read Elefriends house rules and terms & conditions.
Elefriends is made by you – so please use the feedback page to add your comments and suggestions.
Elefriends is for people over 18.
Who manages Elefriends?
Elefriends is managed by Mind, the mental health charity and its setup was generously supported by the Cabinet Office's Social Action Fund.
If you have any questions or concerns, please get in touch.
The Ele and his handlers at Mind moderate the community and help to keep it safe. They're available to respond to any questions or help with difficult situations during these hours:
6am-9am and 10am-2am 7 days a week
Welcome to Elefriends from Mind Charity.