Donations to Hear Us help us continue to represent and act as the voice of people that use the local mental health services in Croydon to service providers and commissioners; actively campaigning with service users on issues raised by users themselves.
To advance education about mental health for the public benefit in the London borough of Croydon and surrounding areas with the object of creating awareness and reducing the stigma attached to mental health Your donations will enable us to continue to provide our resource filled newsletter, website and help us to expand our Linkworking project into more services provided to people with mental health problems. Eenabling Service User to raise issues that affect them.
Make a Text Donation: Donate by Text; you can donate £1, £2, £3, £4, £5 or £10. After you've sent the text, you'll receive a confirmation text back containing details on how to add Gift Aid, meaning Hear Us could benefit from an extra 25%.

Make a Regular Donation You can make regular donations by standing order, download a form here.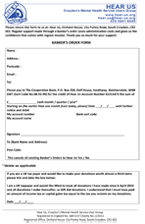 Please complete this form and send it to Hear Us at Orchard House, 15a Purley Road, South Croydon, Surrey CR2 6EZ . We also have Gift Aid donation forms available if you wish to make your gift an even bigger benefit to Hear Us.You can for example make one-off credit card donations or register and set up a standing order to make regular donation. You can choose how much you donate depending on your situation and lifestyleIf you choose to make a quick and secure payment click on theBigGive Logo and donate through theBigGive Website be sure that you 'Gift Aid' your donation which will make it an even BIGGER benefit to Hear Us.
Alternatively you can make a donate through CAFOnline by clicking on their logo below
Make a One off Donation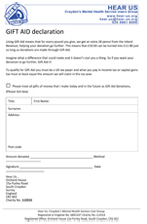 Alternatively, cheques can be sent to us by post. Cheques should be made payable to Hear Us and sent to Orchard House, 15a Purley Road, South Croydon, Surrey CR2 6EZ.
Using Gift Aid means that for every pound given, Hear Us will receive an extra 28p from the HM Revenue & Customs, helping each donation go further at no cost to the donor.